Looking for new dinner ideas? These are a few from the blogosphere that we have gone back to over and over again. They are tried and true keepers that deserve to be shared! For many of them, I skip any oil the recipe calls for or replace it with water. Let me know which ones you try! Click the recipe titles to be linked to the recipes!
Crunchy Thai Peanut and Quinoa Salad  
from the Frugal Vegan cookbook
I LOVE this salad and all the aromatics while making it–cilantro, lime, ginger, green onions. Definitely always make a double batch. It could be a side dish, but I usually make it for dinner and enjoy leftovers for lunch for a couple days.
from Pinch of Yum
This recipe is so simple and uses just a few pantry ingredients + cauliflower. The sauce is so bright and cheery from the roasted peppers and tomato sauce. Super delicious!
from Cookie and Kate
This is one of the easiest, yummiest ways to eat a lot of vegetables. I like to serve this to people who love meat, because it's so delicious that the lack of meat is the last thing on anyone's mind.
from The Garden Grazer
These enchiladas are packed with a variety of textures and flavors, and the homemade enchilada sauce is a game changer! I used to always buy canned enchilada sauce, but Kaitlin at the Garden Grazer blog taught me how easy it is to make it from scratch, and it's so delicious that I've never looked back.
Bangkok Coconut Curry Noodle Bowls
from Pinch of Yum
This is a stunning recipe that I was somewhat addicted to for a few months. I mean, how do you not love it when vegetables taste SO good?! Use brown rice or brown rice noodles to keep it whole-food.
from The Recipe Runner
This soup is….WOW. So rich, creamy, filling, and unique! Not to mention stunningly beautiful. It puts carrots and sweet potatoes at a whole new level of fancy. We made this several times this winter and are not stopping.
from Feeding your Beauty
This soup is one of our all-time favorite soup recipes. Who knew that you don't need cream cheese OR chicken to have amazingly yummy white chili?
from Minimalist Baker
I love pretty much any veggie burger, but what I like about this recipe is that it's not labor-intensive. There is almost no chopping involved. They are devoured by both veggie-burger-likers and real-burger-likers. (Sub bread crumbs for tortilla chips if you want to keep it oil-free).
from Cookie and Kate
Can you tell I love everything Thai and curry-ish?  This is our favorite make-at-home Thai curry. It is versatile enough to use up whatever vegetables you already have. 10/10 recommend!
by Forks over Knives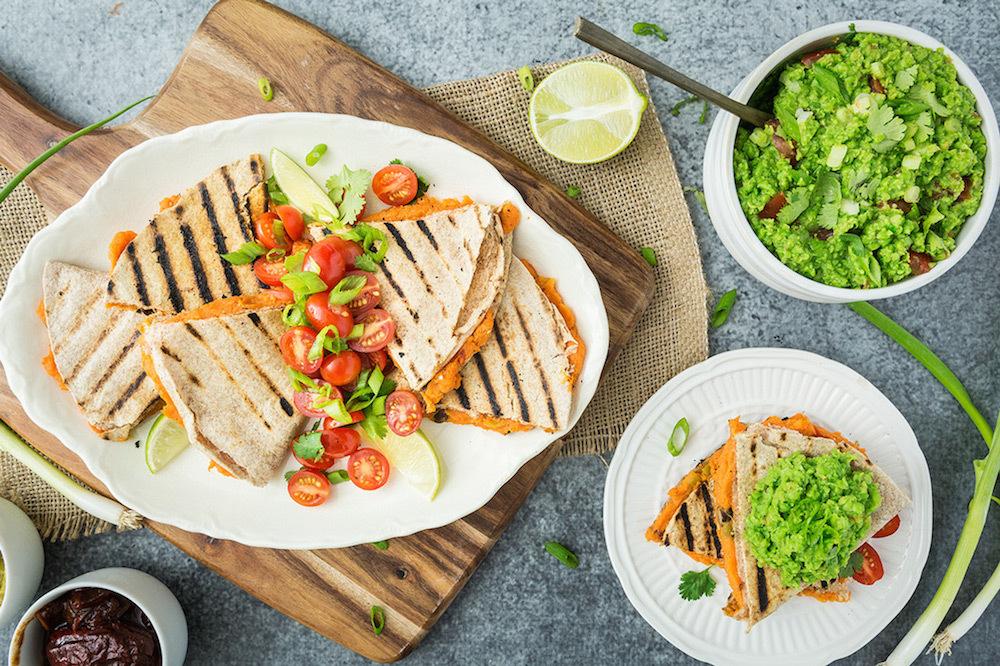 These are one of my favorite quick-ish meals to make. Bake a yam in the microwave for a few minutes, and you're almost done! These are so delicious.